"No Vacancy."
Are you tired of seeing this signboard in most establishments and institutions? While hearing this repeatedly from employers might frustrate you, you need to know that being out of the job – and not finding one right away – should not dampen your spirits.
In fact, in this modern day and age, you can easily make money simply by undertaking a freelance writing jobs online.
With the opportunities of online staffing (writing being a large segment) pegged at $1 Billion (estimated to inflate to $5 Billion by 2018,) there is no reason why you should not take hold of a few hundreds (or thousands maybe) that this sector has in store. If you are in between jobs, working on your resume or just curious, this maybe right for you.
If you have the knack and talent for writing, all you need to do is whip out your laptop and go online right away! Explore the World Wide Web's moneymaking possibilities by applying for freelance writing jobs at these top websites:
Our 5 Best Picks for Freelance Writing Jobs for Beginners
Odesk.com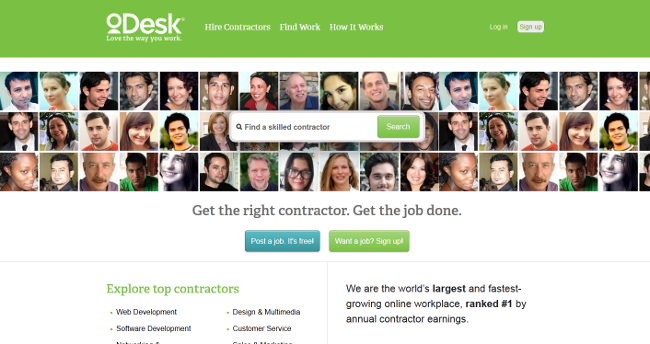 Founded in 2005, Odesk is a virtual marketplace where you can find work related to writing. As of late, it plays home to 3.1 million freelancers who share the website's total cumulative earnings of roughly $920 million. Seven years after its' establishment, it has become the largest online marketplace for professionals – not only writers, but web designers, artists, and voice talents as well.
How Odesk Works
As with any freelancing site, you need to create an Odesk account. Once you have furnished your profile with your work background and portfolios (if you have any), you can take tests and exams that can showcase your skills as a writer. With these badges, you can confidently apply from any of the 75 categories posted within the site.
Does Odesk have the best freelance writing jobs for beginners? Well I think it does and it might be right for you.
Pros:
Massive job opportunities. There are literally thousands of writing job opportunities (about 7800+) posted in Odesk.
Free membership.
Higher employment rates, as there are only 33 contractors battling it out (per writing job) in Odesk.
Two-way feedback system. You can improve your reputation by getting good feedback from your past employers.
Guaranteed payment for hourly jobs.
Cons:
Payment is not guaranteed for fixed-price jobs; it is only upon the employer's discretion. In There is a disclaimer, however, prior to completing the application.
No arbitration offered from 'problematic' contracts.

You might need to settle for low-payment jobs first in order to get your rating and earnings up.
Elance.com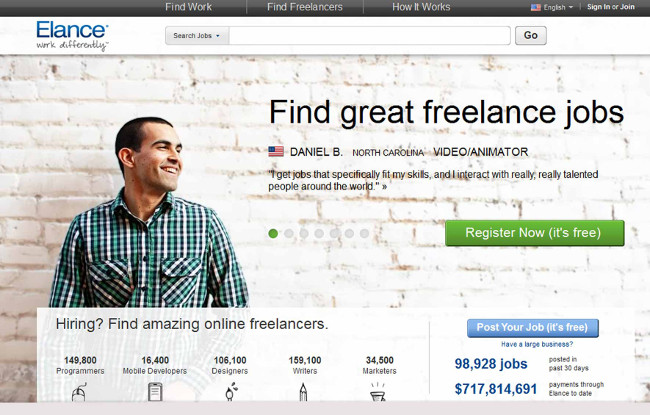 Another popular online staffing platform is elance.com. First launched in 1999, it is home to approximately 2 million professionals and 500,000 businesses. To date, its contractors have earned a cumulative amount of $850 million.
How Elance Works
As with Odesk, you need to create a profile at Elance to get started. You can take tests too, and the results can be posted in your profile. From here on out, you can send proposals and apply for jobs. With Elance, you can get the best job for your skills with the help of the website's matching logarithms.
So does Elance offer the Best Freelance Writing Jobs for Beginners? The site is definitely more structured and that maybe what a beginner needs
Pros:
Numerous job opportunities.

Higher payment rates.

Elance guarantees payment for hourly and fixed-priced writing jobs, in comparison to other websites.

Offers arbitration for projects with disputes, although it comes with a hefty fee (ranges from $66 to $133.)

Low service fee ranging from 6.75-8%.
Cons:
You have to pay a monthly fee (outside the service fees) if you wish to bid on 3 or more projects per month.
Low-priced offers, especially for beginners.
Freelancer.com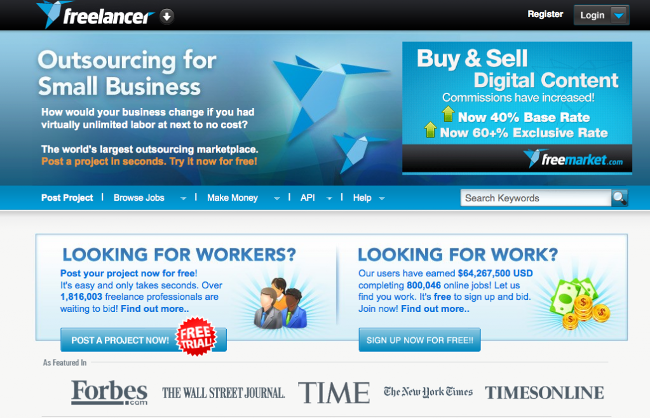 Headquartered in Sydney, Australia, Freelancer.com is an online outsourcing marketplace that was launched in the year 2009. As one of the largest job repositories in the world, it plays home to 4.3 million professionals based from over 200 countries. Apart from freelance writing, users can bid on jobs related to marketing, sales, legal services and accounting services, to name a few.
How Freelancer Works
After creating a profile, you can search for writing jobs, which happens to be one of the 400 niches available at freelancer.com. The employer will then create "Milestone Payment" before you can start with the work. Weekly payments are sent throughout the course of the contract.
So does Freelancer offer the best freelance writing jobs for beginners? Its smaller than than Odesk or Elance but it does have some pros.
Pros:
Offers a free online account for fund transfers, so members can withdraw their earnings easily.
Payment security through an escrow account set up by freelancer.com.
Comes with a "Project Clarification Board," where you can ask the employer for any related questions.
Cons:
Limited support for arbitration.
Has a free plan members, but better compensation is received by paying members (fee ranges from $5 to $45 a month.)
Iwriter.com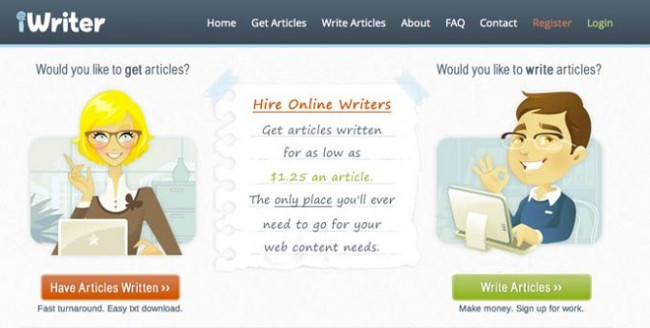 Iwriter.com is a job outsourcing website where you can earn money simply by writing. Signup is free, and although the payouts start small, elite writers can earn as much as $15 per article.
How Iwriter.com Works
Iwriter.com offers jobs that can help you earn easily. You can proceed with writing as soon as he has finished setting up his profile. You also have the opportunity to select the topics you like and write as many articles as you can.
So does IWriter offer the best freelance writing jobs for beginners? this maybe the starting point of your next writing assignment, you decide.
Pros:
Payout is guaranteed.
Posted jobs are very specific (no guesswork needed.)
You can get 'tips' from the employer.
Cons:
Only one payment option: Paypal.
Starting payment is small (maximum $7) for entry-level writers. You need to complete 30 projects and receive an average feedback of 4 in order to join the higher-paying brackets.
Writers do not have the opportunity to post feedback for their employers.
Fiverr.com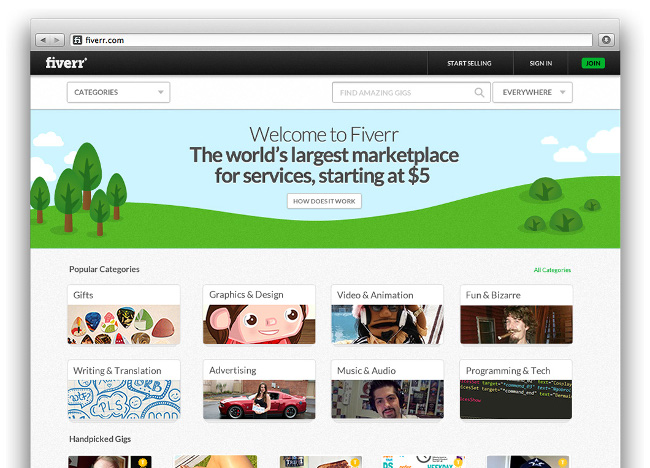 Founded in 2009 by Shai Wininger and Micha Kaufman, Fiverr.com is an online marketplace where you can earn $5 per gig (hence the website's name.) Apart from writing jobs, Fiverr.com is also a good play to earn money for seemingly weird activities (such as weird advertising tactics or 'customized gifts.')
How Fiverr.com Works
Joining Fiverr.com is free of charge. After creating your profile, you can score writing gigs simply by posting slogans such as "I can write excellent articles for $5."
So does Fiverr offer the best freelance writing jobs for beginners? Fiverr offers everything possible and that is what makes it so unique. You can get paid for any form of writing because there is always someone looking for your skills.
Pros:
Easy to use website.
Easy way to make money (You can earn $5 or more for virtually anything.)
Cons:
Fiverr has a big "service fee" of 20% (most freelancing websites range from 6.75% to 10%.)
2-week holding time for payment.
Only offers Paypal for funds transfer.
With these promising websites, you can still work, earn and feel productive – right at the comfort of your own home. So before you bawl out in frustration because of unemployment, know that you can make money out of your scribbling skills.
What are you waiting for? Take advantage of these great freelance writing websites for beginners. With the right skill and mindset, you can end up earning more than a 'real' job.
If you are an experienced freelance writer and have other places you would like to share, please leave a comment an tell us about it.
Thanks for visiting After A Layoff, if this article has helped you please us the social buttons to give us the thumbs up.